What are Implant Crowns?
Written By: Dr. Nadia Rivera
Implant crowns refer to prosthetics that cover the exposed portion of a structurally intact tooth. They are affixed onto the abutment, which is situated at the outermost part of the dental implant, resembling natural teeth.
Implant crowns allow individuals to regain their ability to eat, smile, and interact socially without discomfort or self-consciousness, allowing them to embrace life to its fullest extent. As an optimal remedy for missing or impaired teeth, these crowns excel in functionality and aesthetics.
Types of Materials Used for Implant Crowns
A diverse range of materials is used for dental implant crowns, including ceramics, porcelain, gold, silver, and various metal alloys. Among these options, ceramics and porcelain are favored for their ability to closely resemble natural teeth, while gold is renowned for its exceptional durability.
In dental restoration, advanced techniques involve the fabrication of custom-made implant crowns using porcelain fused to metal, as well as porcelain fused to zirconia.
These materials are highly regarded due to their lifelike aesthetics and realistic texture, making them popular among patients seeking to replace missing or damaged teeth.
Moreover, porcelain and zirconia are biocompatible implant materials, ensuring strength and longevity without adverse effects on the body. The natural appearance they provide further contributes to their widespread preference among dental professionals and patients alike.
Types of Implant Crowns Based on Their Placement
The attachment method used to secure an implant crown to the abutment plays a crucial role in the implant process. Typically, patients have two main options: screw-retained crowns and cemented crowns. Each method has its advantages and disadvantages, and the choice depends on individual dental needs and circumstances.
Your dentist will carefully evaluate your oral health condition and engage in a discussion with you, considering your preferences, to determine the most suitable implant retention method for you.
Dental laboratories manufacture implant crowns based on specific instructions provided by the requesting dentist. When requesting a crown, a dentist will typically choose between two types:
Cement-Retained Implant Crowns
Cement-retained crowns are a type of implant crown that is attached to the abutment using dental cement. Dentists and patients favor this option for several reasons:
Dentists appreciate the ease of fabrication associated with cement-retained crowns.
Attaching a cement-retained crown to an abutment is straightforward, eliminating the need to deal with cumbersome screws.
Patients find these crowns appealing because they offer a natural appearance without any visible screw holes.
It is important to note that cement-retained crowns also have some drawbacks. One concern is the potential for dental cement to seep into the gums, leading to inflammation and bone loss. Additionally, these crowns are more challenging to maintain since they cannot be easily removed in case of problems. Removing them from the abutment can also be messy.
For these reasons, some dentists prefer crowns secured onto the abutment using screws.
Screw-Retained Implant Crowns
Screw-retained implant crowns are designed to be fastened to abutments using screws. These crowns feature two holes that accommodate two screws. One hole is located on the biting surface of the crown for the occlusal screw, while the second hole is on the side facing the tongue for the lingual screw. These screws connect to the abutment, securely holding the crown in place.
There are several advantages associated with screw-retained crowns:
One of the main benefits is their ease of removal, making maintenance and repairs straightforward.
Screw-retained crowns can be easily reattached if necessary, allowing for convenient adjustments or replacements.
This type of crown is particularly beneficial for situations that require retightening of the crown in case of looseness or replacement of chipped or damaged crowns.
Notably, the holes that accommodate the screws in screw-retained implant crowns may be susceptible to cracking and chipping due to regular wear and tear.
How are Implant Crowns Made?
The process of creating a dental implant crown involves a few steps. First, the dentist will take an impression of the patient's natural tooth to ensure that the implant matches the size and shape of their existing teeth. Color matching also ensures that the implant crown blends seamlessly with the natural tooth color. This information is sent to a specialized lab that fabricates dental implants.
At the lab, the collected data is used to craft the crown. The material used for the crown is biocompatible to ensure it doesn't adversely affect the patient's oral health. The crown is carefully designed to replicate the shape and color of the patient's original teeth, allowing for a seamless smile, comfortable biting, and effortless chewing.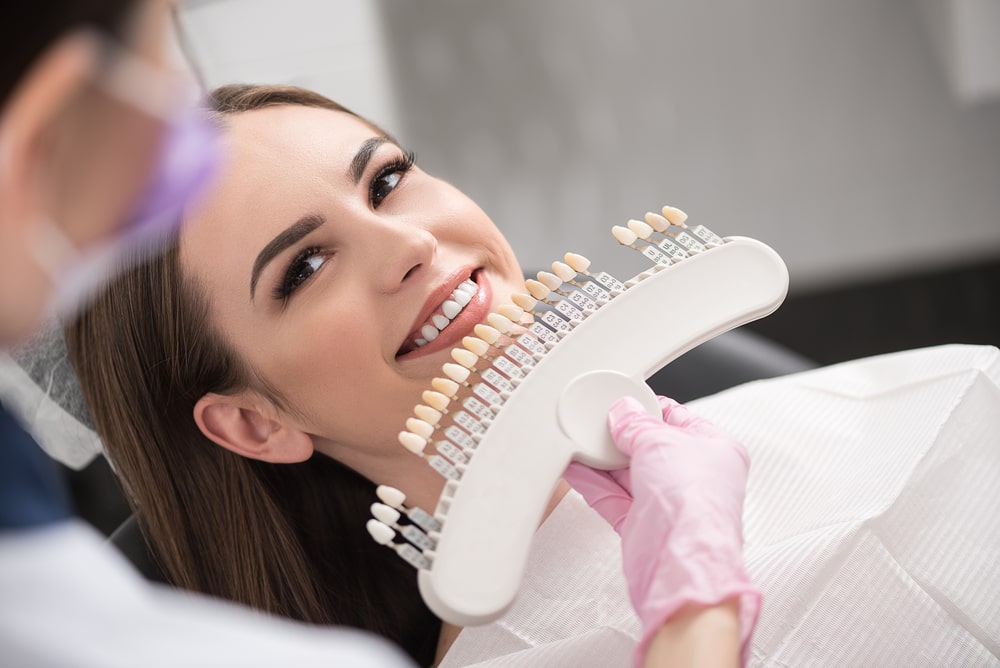 Dental Crowns vs. Implant Crowns
It's important to differentiate between dental crowns and implant crowns. Dental crowns are fitted onto a tooth that still has its natural root structure, restoring and protecting the existing tooth.
Implant crowns replace an entire tooth or multiple teeth, including the root. The implant is surgically placed into the jawbone, and the implant crown is then attached using a screw. This provides a more comprehensive solution for tooth replacement than dental crowns, which sit above the gum line.
How to Care for Your Implant Crowns?
Proper care for implant crowns is essential to maintain their optimal condition. Since the edges of implant crowns sit just below the gum line, similar to natural teeth, patients need to practice good oral hygiene at home. This includes regular flossing, brushing, and visiting the dentist at least every six months.
Using an oral irrigator can be beneficial to ensure cleanliness and prevent bacterial buildup. You will receive specific instructions tailored to your treatment phases, guiding you on caring for your dental implant crowns.
With proper care, implant crowns can last long, providing functional and aesthetic benefits. However, it is important to note that after this period of time, replacement may be necessary. In some cases, patients can enjoy the functionality and beauty of their dental implant crowns for the remainder of their life.
Choose Advanced and Reliable Implant Crowns for Lasting Results
For long-lasting and reliable results, selecting advanced and dependable implant crowns is essential. Your dentist is critical in helping you choose the most suitable type and option for your crown. Discuss your specific needs and inquire about the various dental implant restoration options available.
Dr. Michael Richer and Dr. Nadia Rivera help restore patients' smiles at R+R Dental with high-quality dental implants and implant crowns. Call us today at (347) 431-0657 to schedule an appointment, or contact us online.